2nd Hellenic Biocluster Forum
09/11/2021: On 4th and 5th of November, Hellenic Biocluster, the largest health & life sciences cluster in Greece, organized it's 2nd Forum at the Stavros Niarchos Foundation Cultural Center. It's topic was "The Life Sciences Innovation Landscape in #Greece: Shaping a Dynamic Vision for the Industry".
During the two-day programme, the health innovation ecosystem in Greece has been showcased, while highlighting the criticality for synergies between all stakeholders (industry, academia, policy makers, government). Speakers from Europe, the USA and Greece discussed ways to shape and support a strong and sustainable industry, creating real solutions for the community.
It's been a while since our last physical presence in an event, so it was a pleasure to attend the 2nd HBio Forum in person. Our CEO, Mr. George Nikolaidis presented the work progress of our research project "PrescIT". The audience appeared to show interest in its innovative features and exploitation potential.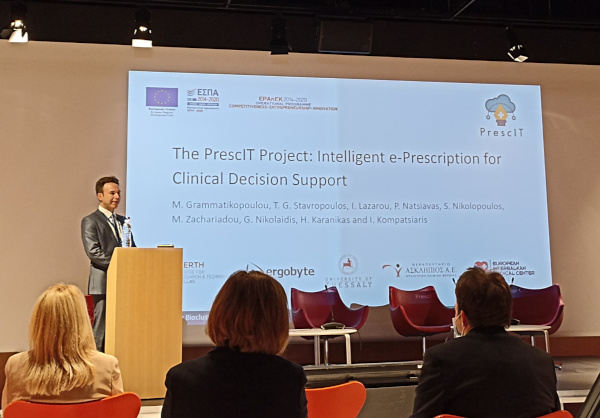 About HBio
HBio is a strong innovation moderator that connects and supports industry and academia partners to develop innovative and impact science. The Hellenic Biocluster delivers connectivity to the global science and technology frontiers for more than 65 partners, with the vision to continue being a catalyst, adding value to the innovation performance of its members and Greece as a whole.
Find out More